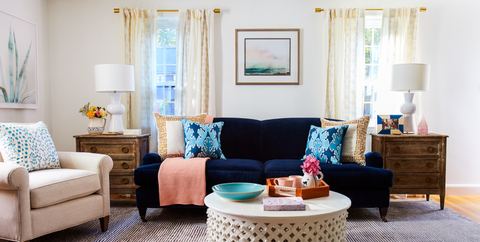 Mike Garten
Whether it's a complete overhaul or a quick refresh, spice up the family's favorite room with these pro tips.
1 of 53
Colorful Light Fixture
Update an unattractive, outdated light fixture with a few coats of paint, round bulbs and pom-pom fringe for a whimsical touch. Strong colors overhead pull together the room's eclectic vibe.
2 of 53
Streamlined Shelves
Refresh your storage by taking the jackets off old books (load up at yard sales) to expose the stitching or covering your collection with coordinating papers.
3 of 53
Tilted Mirror
For a laid-back look on your mantel, rest a sturdy style against the wall – no hammering required.
SHOP MIRRORS
4 of 53
Lush Leaves
Fill any underused nook or corner with a big, ol' houseplant and it can instantly become the personality-packed focal point of the room. Tuck the pot in a
…
Read More